Anne-Marie Rumbol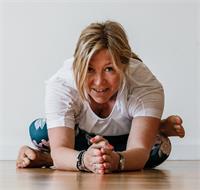 Anne-Marie has practised various styles of Yoga over the past 10 years, but was bowled over by Vinyasa Yoga after meeting Claire Missingham and completed her teacher training with Claire in 2011.
Anne-Marie continues her Yoga learning studying with other great teachers and has gone on to become a restorative Yoga teacher with Judith Hanson Lasater. Anne-Marie is also qualified as a pre and post natal Yoga teacher having completed her training with Katy Appleton of appleyoga.
Anne-Marie believes being an excellent Yoga teacher involves a life-long quest for learning and improvement of both mind and body, which she loves to pass on to her students.
Anne-Marie teaches Vinyasa Yoga, Prenatal Yoga and Postnatal Yoga.
Anne-Marie Rumbol instructs the following:
Vinyasa Yoga is a physically and mentally stimulating practice for all levels of experience. The focus is on our balance, breathing and connection to the earth — providing a way of moving through the asanas (postures) as well as exploring how our Yoga practice is related to our everyday life. Alignment is emphasized as a way of moving safely and deepening the practice. Expect sun salutations, chaturanga (alternative options given as well), and some inversions. In addition to the physical practice, breathing techniques (pranayama) encourage concentration and cleansing, chanting may be used to focus the mind, and Yogic scripture may be discussed from time to time. Music and hands-on assists are integral to the class.

Vinyasa classes range between 60 to 120 minutes long. All ability levels welcome. Classes are held at room temperature. Music is played in these classes.




Our Lunch Time Flow are a gentle all level flowing Yoga class. There is focus on developing awareness and strength in the key muscle groups we use in our Yoga practise - the legs, glutes, abdominal core area, and upper arms. The aim is to improve posture, develop core strength and improves stamina and flexibility, making this a class for everyone. Different options will be provided to allow you to work at the level that's right for you no matter what your experience or history. It's perfect if you are new to Yoga and want to build a solid foundation to allow you to work towards a stronger practice, if you want to develop your general body awareness and strength, or if you have a regular practice and want to spend some time working on the building blocks. Expect a mixture of static and flowing movements, props are used when required.

Lunch Time Flow classes are 75 minutes long. All ability levels welcome. Classes are held at room temperature. Music is played in these classes.