Kee Chan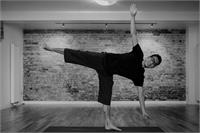 Having suffered from sciatic pain in his left for a few years and following regular visits to a chiropractor and massage therapist, Kee decided to give Bikram Yoga a try and has never looked back.
After a few classes his sciatic pain had improved, after a few weeks there was more muscle tone and flexibility, and after a few months there was more mental focus which helped deal with challenging situations outside of the hot room.
In February 2012, Kee attended a Bikram Yoga retreat in India which helped his focus and understanding of Yoga. It was during this time he started thinking of the possibility of becoming a teacher, with the knowledge that he could pass on the physical and mental healing benefits of BY to others.
After 12 years of working behind a desk on IT Projects, Kee decided it was time for a change and enrolled on Teacher Training in Los Angeles, Autumn 2012. He went on to complete his Spiralling Crow Vinyasa Yoga and Hot Power Teacher Training with Alessandro and Caroline at YogaVenue.
"Think of the practise as 90mins of breathing and the rest will work itself out..."
Kee teaches Hot 26, Hot Power and Vinyasa Yoga.
Kee Chan instructs the following:
Our Hot 26 Yoga class is a series of static Hatha Yoga asanas (postures) and breathing exercises developed by Bikram Choudhury. This set sequence of 26 asanas and 2 breathing exercises are performed in each class. Each posture stretches, strengthens and prepares the body for the next to maximise oxygenation and detoxification; all together they work every part of the body. The beauty of practising the same movements in every class means you are able to see how your body is changing over time. You never get bored and you always learn something new in every class! Hot Yoga is practised in a room heated to around 40°C. The heat warms up the body allowing you to stretch into the asanas safely while at the same time aiding detoxification and increasing the cardiovascular element of the class. This class includes static asanas, which means you do not flow from one to the next (no vinyasas or downward facing dogs).

There are numerous benefits from a regular Hot Yoga practice, including weight loss, improved muscle tone, strength and flexibility, reduced back/knee pain, better concentration and focus and lower stress levels. The class is suitable for all levels from complete beginners to advanced students. Be prepared to sweat and have fun!

Hot 26 classes are 90 minutes long. All ability levels welcome. Classes are held in a heated room (temperature 40 – 41.5 °C). These classes are without music.




The YogaVenue Hot Power Yoga class is a structured sequence of asana developed to create a union between more flowing practices (such as Vinyasa Yoga) and more static practices (such as the Hot 26) in a heated environment of 35 – 37 degrees Celsius. The class is designed to build strength and flexibility with emphasis on upper body and core. The heat allows for safe, deep stretching, detoxing and increasing the intensity of the class to generate a more cardiovascular affect. All our Hot Power classes are chatturanga free! Our Hot Power class sequence is dynamic in nature changing with the seasons so ensure the body and the minds needs are met.

The classes are suitable for all levels from complete beginners to advanced students.

All classes are 75 minutes.

Some of our classes are with music and are identified on our schedule.