Kristian Strommen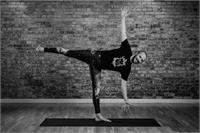 Kristian discovered yoga when his girlfriend convinced him to try a class, and before he knew it found himself doing multiple classes a week. As his love of the practice deepened, the idea of teaching, which started off as a joke, became a serious one, and so in 2015 he completed his 200hr Spiralling Crow Vinyasa Yoga Teacher Training at YogaVenue with Alessandro and Caroline.
As a teacher, Kristian strives to make each class rewarding both for body and mind. He believes the qualities we can cultivate on our mats, like compassion, courage, playfulness and mindfulness, are ones we can bring with us off the mat, and this goal guides his teaching. Above all, he aims to make his classes joyful.
Kristian teaches Vinyasa Yoga.
Kristian Strommen instructs the following: