Christopher Keyte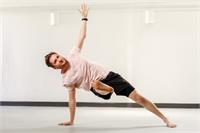 Keyte took to Yoga as a way to help recover from the after effects of boxing and football on his body! What was at first a solution to injuries became a proactive method to prevent them, strengthen the body and quieten the mind. This lead to a regular practice, eventually the study of human biology and after a few years, Spiralling Crow teacher training at YogaVenue in the Summer of 2016.
"Yoga is absolutely integral to my physical and mental well-being. My favourite classes to attend are those that I don't accurately recall or am surprised to have end around me. Those classes offer a focus and energy I can take out from the studio, that is additional to the strength or flexibility benefits a Vinyasa Yoga practice can offer. As such, I aim to reflect this with a class that is challenging, yet immersive and meditative."
Keyte teaches Vinyasa Yoga at YogaVenue.
Christopher Keyte instructs the following:
Vinyasa Yoga is a physically and mentally stimulating practice for all levels of experience. The focus is on our balance, breathing and connection to the earth — providing a way of moving through the asanas (postures) as well as exploring how our Yoga practice is related to our everyday life. Alignment is emphasized as a way of moving safely and deepening the practice. Expect sun salutations, chaturanga (alternative options given as well), and some inversions. In addition to the physical practice, breathing techniques (pranayama) encourage concentration and cleansing, chanting may be used to focus the mind, and Yogic scripture may be discussed from time to time. Music and hands-on assists are integral to the class.

Vinyasa classes range between 60 to 120 minutes long. All ability levels welcome. Classes are held at room temperature. Music is played in these classes.