Hinny Wass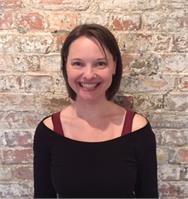 Hinny first discovered Forrest Yoga while living in Newcastle upon Tyne. Having dabbled with various forms of yoga from the age of fourteen, in 2011 she attended her first Forrest Yoga class and was immediately hooked. She came out of that class feeling amazing - core muscles totally awake, mind calm, and for the first time in years her shoulders and neck weren't achingly tense! Since then Hinny has, through a regular Forrest Yoga practice, discovered such strength, balance and flexibility she didn't know was possible, both on and off the mat. After moving to Oxford, Hinny missed Forrest Yoga so much that she decided to train as a teacher. She attended a month-long training course in Texas in October 2016 and has been teaching ever since.
Hinny is passionate about sharing the transformative power of Forrest Yoga with her students.
Hinny teaches Forrest Yoga.
Hinny Wass is currently not instructing any classes.