About the Course
2017 Teacher Training is open for applications! Application closing date is 8th June 2017.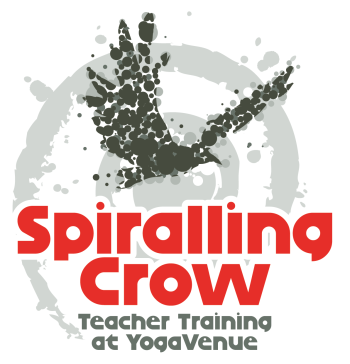 YogaVenue's 200 hour Spiralling Crow Teacher Training, offers you the skills, techniques and knowledge you need to become a Vinyasa Yoga teacher. While we study the essential Yoga knowledge of Asana, Pranayama, transitions, sequencing, philosophy, anatomy and energetics, equal importance is placed on developing your teaching skills, your unique teaching style and, by no means least, find a teaching voice.
The Spiralling Crow course places great importance on the practical aspects of teaching Yoga and you will start to practise your teaching from Day 1. We will study teaching theory and how to turn this into reality using body and voice skills (we have a voice coach as a guest teacher), as well as understanding the management of the class itself.
Our vision is to encourage you to find a voice with which to teach what you love – Yoga! You will be fully guided by the teaching faculty, who will create a safe space for your explorations into teaching. We want you to feel supported while you discover your unique voice, let go of limiting beliefs and build your confidence. We aim to facilitate your development into an inspiring Yoga teacher.
The course is spread over 20 days with additional home study and the encouragement to engage in a home practice. We will meet for 2 long weekends and then an immersive period of 13 consecutive days which allows us the space to dive deeper and deeper into our Yoga and teaching experiences. With home study, the course is over 200 hours long.

The Teacher Training takes place at YogaVenue in Oxford. It is run by Alessandro and Caroline as well as guest teachers who each bring their expertise to the course. As a student, you will also be supported by a course mentor throughout the training. The course is purposefully kept small with a maximum of 16 students.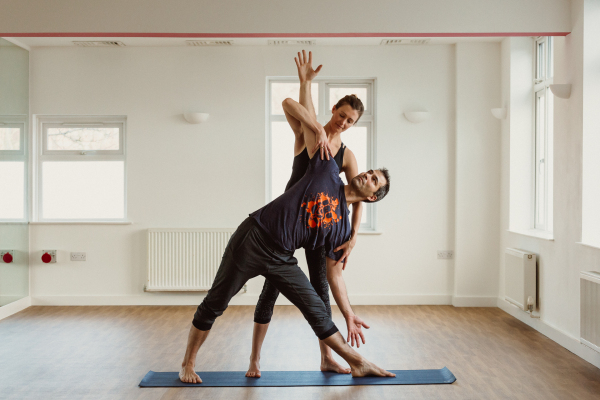 YogaVenue's Spiralling Crow Teacher Training is certified by Yoga Alliance at the 200-hour level.
What you will be learning:
You will be learning to teach a Vinyasa Yoga class. The content will include:
• Safety in the Yoga room
• Student/people skills
• Asana and transitions
• Pranayama
• Anatomy of poses and movement
• A framework for your class sequencing
• Teaching technique
• Teaching practice
• Meditation
• Philosophy, tradition and chanting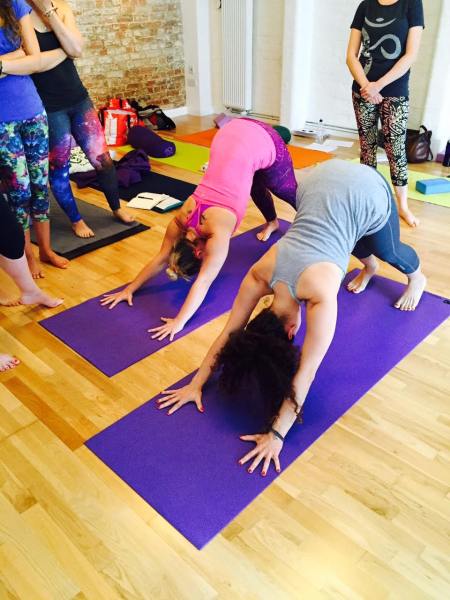 • The subtle energy systems
The intention of the course is to encourage you, as students, to:
a) be yourself;
b) develop your own Yoga class and sequences within a framework;
c) start to discover a teaching style that is your own;
d) gain familiarity and confidence in what you know, what you are learning and how you deliver it during the practice teaching sessions;
e) gain confidence in your ability to teach a 1.5 hour Vinyasa class.
You will learn a lot over the course of the training but we will NOT overload you with information. We aim to keep the content of the course contained, enabling you to use as much of your learning as possible in your teaching practice and helping you become familiar with the concepts and techniques we cover.

This is an exciting and intense course. The old cliché that 'you get out what you put in' really is valid here. A lot will be asked of you. You must put everything into the days we meet, add some fun, and stir the pot. Enjoy the process and the challenge.
This course is for those who:
• Are in love with Yoga;
•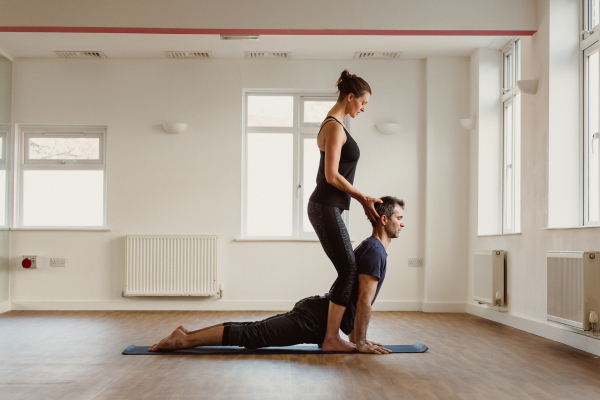 wish to learn to teach Yoga with compassion;
• love exploring how different bodies find the shapes of Yoga;
• want to understand the framework and building blocks of sequencing classes;
• desire to explore creativity within sequencing;
• want to find their voice;
• are open to the naturally evolving challenge that is Yoga Teacher Training; physical, mental, emotional, social – In other words are you ready to accept change in your life?
This is not suited to those who:
• Only wish to develop their own practice further as, on this course, a lot of time is spent on teaching practice;
• want to have a Yoga holiday;
• are new to Yoga;
• habitually turn up late;
• know it all already.
Prerequisites
You will need to have an established Yoga practice, preferably of at least three times a week. You should also have a good understanding of the shapes of common Yoga Asanas. You must be able to participate in each day of the course. Missing a day, days or part of days is not an option. Some basic meditation practice is useful but not essential.
Cost
The cost of the course is £2,750, which includes all tuition and the materials handed out on the course. Pre-reading materials are not included in the fee. Once accepted on the course, there will be a non-refundable deposit of £600. All details will follow your acceptance on the course.
Application Process
Applications for the 2017 Spiralling Crow Vinyasa Teacher Training are open.
Stage 1:
If you have any questions, or any doubts at all, please write or call us and we can chat to you further. Contact us on training@yogavenue.co.uk or 01865 245754.
Stage 2:
The next stage is to complete an
application form
. Please have your applications in by June 8th.
Stage 3:
Once we have received your application we will contact you to chat through the information you have given and answer any questions you may have. FYI we talk to everyone who wishes to join the course. We have found this process gives you as much information about the training as possible.
We really look forward to hearing from you.

The Next 200 hour Vinyasa Training will take place on:
June 29th - July 2nd 2017July 15th - July 18th 2017July 31st - August 12th 2017
* Spiralling Crow is the teaching and training arm of YogaVenue