Emma Robinson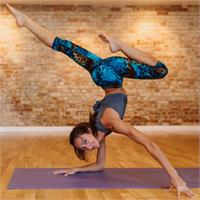 Emma has been teaching Yoga since 2008, and has trained under the expertise of Louise Solomon, Yogi Vishvektu, Edward Clark and Nikki Durrant. Emma is also a practising Osteopath with clinics around Oxfordshire. Emma's classes are balanced, eclectic and challenging, and she encourages her students to experiment with controlled transitions, arm balances and inversions.
Emma teaches Vinyasa Yoga.
Emma Robinson is currently not instructing any classes.