Anne-Marie Rumbol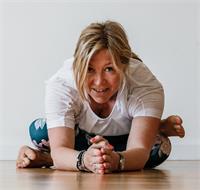 After being bowled over by Vinyasa Yoga, Anne-Marie completed her Vinyasa training with Claire Missingham in 2011, and her Restorative Yoga training with Judith Hanson Lasater. Anne-Marie also qualified as a pre and post natal Yoga teacher with Katy Appleton of appleyoga. Anne-Marie believes being a Yoga teacher involves continuous learning and improvement of both mind and body, and she loves to pass this knowledge on to her students.
Anne-Marie teaches Vinyasa Yoga and Restorative Yoga.
Anne-Marie Rumbol instructs the following:
Vinyasa Yoga is a physically and mentally stimulating practice for all levels of experience. The focus is on our balance, breathing and connection to the earth — providing a way of moving through the asanas (postures) as well as exploring how our Yoga practice is related to our everyday life. Alignment is emphasized as a way of moving safely and deepening the practice. Expect sun salutations, chaturanga (alternative options given as well), and some inversions. In addition to the physical practice, breathing techniques (pranayama) encourage concentration and cleansing, chanting may be used to focus the mind, and Yogic scripture may be discussed from time to time. Music and hands-on assists are integral to the class.

Vinyasa classes range between 60 to 120 minutes long. All ability levels welcome. Classes are held at room temperature. Music is played in these classes.