Heidi Muschallik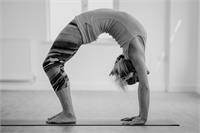 Heidi started practising Bikram Yoga in 2000. Yoga became her full-time work in 2003 after she completed her Bikram Yoga teacher training in Los Angeles. What Heidi absolutely loves about teaching is seeing how Yoga benefits those who dedicate their time and energy to it – helping them to improve their mental, physical and emotional health, and also, how Yoga can be available to anyone, regardless of ability. She aims to share the invigorating and energising aspects of Bikram with her students.
Heidi teaches Hot 26 and Intermediate Hot Power Flow Yoga.
Heidi Muschallik instructs the following:
Our Hot 26 Yoga class is a series of static Hatha Yoga asanas (postures) and breathing exercises developed by Bikram Choudhury. This set sequence of 26 asanas and 2 breathing exercises are performed in each class. Each posture stretches, strengthens and prepares the body for the next to maximise oxygenation and detoxification; all together they work every part of the body. The beauty of practising the same movements in every class means you are able to see how your body is changing over time. You never get bored and you always learn something new in every class! Hot Yoga is practised in a room heated to around 40°C. The heat warms up the body allowing you to stretch into the asanas safely while at the same time aiding detoxification and increasing the cardiovascular element of the class. This class includes static asanas, which means you do not flow from one to the next (no vinyasas or downward facing dogs).

There are numerous benefits from a regular Hot Yoga practice, including weight loss, improved muscle tone, strength and flexibility, reduced back/knee pain, better concentration and focus and lower stress levels. The class is suitable for all levels from complete beginners to advanced students. Be prepared to sweat and have fun!

Hot 26 classes are 90 minutes long. All ability levels welcome. Classes are held in a heated room (temperature 40 – 41.5 °C). These classes are without music.




YogaVenue's Hot HIIT Flow class combines Yoga and high intensity interval training (HIIT) to create a unique class focusing on developing strength and stamina. Bringing together traditional asanas (poses) from Yoga with gym-style interval training, we will use a mixture of holding and pulsing movements to work on core and upper body strength, increase endurance and stamina, as well as promote flexibility and coordination. Expect lunges, squats and planks! Heat is added to create a cardio level intensity to the class. This class is perfect for everyone regardless of ability or experience. Expect to work hard and have fun — and leave feeling energized!

If you are a regular gym or CrossFit trainer, then this class is perfect to help create balance and add some flexibility training to the mix. If you practise Yoga and are struggling with developing core strength this is also a great option for you. Different options will be provided to allow you to work at the level that's right for you.

Hot HIIT Flow classes are 60 minutes long. All ability levels welcome. Classes are held in a heated room (temperature 34-35 °C). Music is played in these classes.