Katie Phelps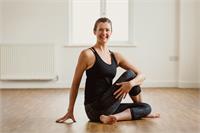 Katie came to YogaVenue as an English teacher but soon swapped the school classroom for the Yoga studio. She completed her initial Vinyasa Yoga teacher training with Sally Parkes in 2013, and has gone on to gain qualifications in teaching Yoga to Teens with Calm for Kids, Restorative Yoga with Judith Hanson Lasater and Yin Yoga with Biff Mithoefer. There is a beauty to Katie's classes; they are designed to offer students the opportunity to explore and develop their practice in a supportive, uplifting and fun environment.
Katie teaches Vinyasa Yoga, Yin Yoga, Yin Flow, Restorative Yoga and Hatha Yoga.
Katie Phelps instructs the following:
Vinyasa Yoga is a physically and mentally stimulating practice for all levels of experience. The focus is on our balance, breathing and connection to the earth — providing a way of moving through the asanas (postures) as well as exploring how our Yoga practice is related to our everyday life. Alignment is emphasized as a way of moving safely and deepening the practice. Expect sun salutations, chaturanga (alternative options given as well), and some inversions. In addition to the physical practice, breathing techniques (pranayama) encourage concentration and cleansing, chanting may be used to focus the mind, and Yogic scripture may be discussed from time to time. Music and hands-on assists are integral to the class.

Vinyasa classes range between 60 to 120 minutes long. All ability levels welcome. Classes are held at room temperature. Music is played in these classes.




Our Lunch Time Flow are a gentle all level flowing Yoga class. There is focus on developing awareness and strength in the key muscle groups we use in our Yoga practise - the legs, glutes, abdominal core area, and upper arms. The aim is to improve posture, develop core strength and improves stamina and flexibility, making this a class for everyone. Different options will be provided to allow you to work at the level that's right for you no matter what your experience or history. It's perfect if you are new to Yoga and want to build a solid foundation to allow you to work towards a stronger practice, if you want to develop your general body awareness and strength, or if you have a regular practice and want to spend some time working on the building blocks. Expect a mixture of static and flowing movements, props are used when required.

Lunch Time Flow classes are 75 minutes long. All ability levels welcome. Classes are held at room temperature. Music is played in these classes.




Restorative Yoga is a slow practice of largely seated or lying down postures. Props, bolsters and blankets are used to help find ease in each asana (posture), inviting mental and physical release. In the Restorative Yoga class passive, restful asanas are typically held between 5 and 20 minutes. This allows the body to soften, open and relax deeply, and the mind to become quieter. In this restful state, the nervous system is given the chance to shift into 'repair and renew' mode, making Restorative Yoga a profoundly nurturing practice. It is particularly helpful during times of stress and fatigue and is the perfect complement to a regular Hot or Vinyasa practice.

Please wear or bring warm layers to class including a pair of socks.

Restorative classes are 90 minutes long. All ability levels welcome. Classes are held at room temperature. Gentle music is played in these classes.




Yin Flow harnesses elements of both yin and yang to create a blissful, energetically balanced class. It is the perfect combination of styles for those who love to move but also recognise the importance of balancing movement with steadiness and stillness. Beginning with a slow, warming flow, we will move through a carefully sequenced set of asanas to prepare the body and mind for the floor-based Yin stretches which will be held for 3-5 minutes each. Props will be used to support the body as we work gently into muscles and connective tissue. Yin Flow is designed to increase physical mobility, mental focus and overall wellbeing. The combination of flow and slow stretch will help you to move more deeply into your practice and to find release where you most need it. Music will be played and hands on assists may be offered. This class is suitable for all levels.