Kristin Bergman Ward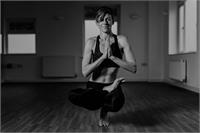 Kristin came to Yoga to help her bad back and poor posture while completing her PhD. Her life was transformed when in 2007 she completed Bikram Yoga teacher training, and she went on to become a two-time UK Yoga Asana Champion (2009, 2011). She carries with her a wealth of knowledge about the series, posture mechanics, and working with the spine.
Kristin is a guest teacher at YogaVenue and returns monthly to teach Hot 26 Yoga conditioning, Hot 26 Intermediate and Hot 26.
Kristin Bergman Ward instructs the following:
Our Hot 26 Yoga class is a series of static Hatha Yoga asanas (postures) and breathing exercises developed by Bikram Choudhury. This set sequence of 26 asanas and 2 breathing exercises are performed in each class. Each posture stretches, strengthens and prepares the body for the next to maximise oxygenation and detoxification; all together they work every part of the body. The beauty of practising the same movements in every class means you are able to see how your body is changing over time. You never get bored and you always learn something new in every class! Hot Yoga is practised in a room heated to around 40°C. The heat warms up the body allowing you to stretch into the asanas safely while at the same time aiding detoxification and increasing the cardiovascular element of the class. This class includes static asanas, which means you do not flow from one to the next (no vinyasas or downward facing dogs).

There are numerous benefits from a regular Hot Yoga practice, including weight loss, improved muscle tone, strength and flexibility, reduced back/knee pain, better concentration and focus and lower stress levels. The class is suitable for all levels from complete beginners to advanced students. Be prepared to sweat and have fun!

Hot 26 classes are 90 minutes long. All ability levels welcome. Classes are held in a heated room (temperature 40 – 41.5 °C). These classes are without music.




The Hot 26 conditioning class is aimed at Yogis that regularly attend the Hot 26 class who want a little something extra to help with opening the spine and the hips. These two parts of the body are connected and are places where we tend to get resistance and tightness. In this class, after the warm up, we will practise exercises and asanas that will focus on opening the hips and the spine. Expect lunges, barre work and gentle backbends. This class can be done on its own or tagged on to a Hot 26 class before or after.

This class is suitable for anyone, but more beneficial if you practise the Hot 26.




This class is either 60mins or 75min (please check the schedule).

This class will be warm. This class is not done to music.




This class is a stepping stone between the Hot 26 and the Advanced 84 Series. Practised in the same sequence as the Hot 26, you will be introduced to intermediate postures and other preparatory work that help the body to work towards advanced posture expressions. EVERY posture in the Hot 26 (which is a Beginner's series) has a next step, and another after that... This class will help you to better understand exactly why the we do what we do in the Hot 26, and the body parts involved in posture development. Expect to challenge your practice in new ways and have a lot of fun doing it, in a compact, 90-minute class.




This class is most suitable for those with a regular Hot 26 practice so if you've never been to a Hot 26 class before (not matter how experienced you are in other forms of Yoga), this is not the class to start with. This class is 90 minutes long. The room is heated to aprox 40 degrees. Music is not played in this class.