Alison Partridge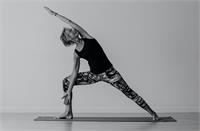 Alison has been practising Yoga for over 20 years. After a long career in social care, she trained to teach Vinyasa Yoga in 2014, and has gone on to complete trainings in Hot Power Flow Yoga, Seated Yoga and Yin Yoga. Inclusivity is at the heart of her values, and she firmly believes that Yoga is for everyone, regardless of age, body type, background or bendiness!
Alison teaches Hot Power Flow Yoga and Yin Yoga.
Alison Partridge instructs the following:
Yin Yoga focuses on passive stretches, holding asanas (postures) for 3-5 minutes each to work gently into muscles and connective tissues, and allowing the mind to slow down. Yin Yoga releases stress, elongates muscles that we often ignore, and creates balance to our more vigorous yang practice. This class is designed to increase flexibility and joint mobility. We will stretch from head to toe while finding a bit of focus, patience and release in the mind as well as the body. Yin Yoga is particularly helpful during times of stress and fatigue and is the perfect complement all our other Yoga classes. It's also perfect for you if you run or cycle a lot and suffer from stiffness in your lower back. From stressed students to athletes seeking greater flexibility or beginners who have never put a foot on a yoga mat, this type of Yoga will help you release mind and body. Props are used in this class to help support the body while in postures to aid release and relaxation.

Yin classes are 60 or 75 minutes long. All ability levels welcome. Classes are held at room temperature. Music is played in these classes.




Our Hot Flow Hour is a 60min flowing Yoga class. This class is similar to the Hot Power Flow with more flowing elements weaved into the sequences, the emphasis is on upper body and core strength. The class is held in a heated room, the heat warms up the body allowing you to move into the asanas (postures) safely while at the same time aiding detoxification and increasing the cardiovascular element of the class. All our Hot Flow classes are chaturanga free to allow you to work on your alignment and focus on the integrity of flowing from one pose to the other safely. You will leave class feeling physically and mentally cleansed.

This class is great all-round class for all levels.

All ability levels welcome. Classes are held in a heated room (temperature 35-37 °C). Some of these classes are with music and are identified on our schedule.