Emily Devine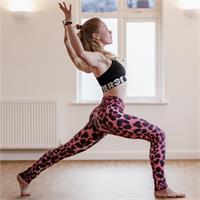 Emily had her first crack at Yoga in 2013 as means of recovering from running injuries. As she's a sucker for a new challenge, Emily headed straight to the hot room for her first Hot 26 class and never looked back. Since then she has fallen in love with many kinds of Yoga – from fluid vinyasa to fiery Hot HIIT – and completed her vinyasa training and Hot HIIT training with Spiralling Crow at YogaVenue in 2018. She's a firm believer in the fact that Yoga is for everyone, regardless of body type, age or level of flexibility – and that a sense of humour is a hugely important part of any Yoga practice!
Emily teaches Hot HIIT Flow.
Emily Devine instructs the following:
YogaVenue's Hot HIIT Flow class combines Yoga and high intensity interval training (HIIT) to create a unique class focusing on developing strength and stamina. Bringing together traditional asanas (poses) from Yoga with gym-style interval training, we will use a mixture of holding and pulsing movements to work on core and upper body strength, increase endurance and stamina, as well as promote flexibility and coordination. Expect lunges, squats and planks! Heat is added to create a cardio level intensity to the class. This class is perfect for everyone regardless of ability or experience. Expect to work hard and have fun — and leave feeling energized!

If you are a regular gym or CrossFit trainer, then this class is perfect to help create balance and add some flexibility training to the mix. If you practise Yoga and are struggling with developing core strength this is also a great option for you. Different options will be provided to allow you to work at the level that's right for you.

Hot HIIT Flow classes are 60 minutes long. All ability levels welcome. Classes are held in a heated room (temperature 34-35 °C). Music is played in these classes.




The YogaVenue Hot Power Flow class perfectly combines flowing Vinyasa sequences with more static practices like the Hot 26. The structure of the class is designed to build strength and flexibility with an emphasis on upper body and core strength. Flowing sequences promote grace and stability while longer holds develop strength. The class is held in a heated room, so the heat warms up the body allowing you to stretch into the asanas (postures) safely while at the same time aiding detoxification and increasing the cardiovascular element of the class. All our Hot Power Flow classes are chaturanga free to allow you to work on your alignment and focus on the integrity of flowing from one pose to the other safely. Our Hot Power Flow class sequence changes every few months to ensure that the needs of both body and mind are met. Expect planks, sun salutations, warriors, hip openers and the option to include gentle arm balances. You may leave class feeling physically and mentally cleansed.

This class is great all-round class for all levels. It is great to try if you are used to a Hot 26 practice and want to experiment with different styles in the heat. It's also perfect if you're used to more flowing Vinyasa classes and want to try something with a little heat.

YogaVenue Hot Power Flow classes are 75 minutes long. All ability levels welcome. Classes are held in a heated room (temperature 35-37 °C). Some of these classes are with music and are identified on our schedule.