James Ridgely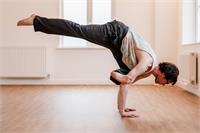 Yoga has transformed James life in so many ways and teaching at YogaVenue feels like completing the circle.
James first became interested in Yoga after seeing people practicing at a music festival. Intrigued, he started to take classes at his local gym and was quickly hooked. Once he discovered YogaVenue he knew he was home and in 2018 after a number of years of consistent practise James completed the Spiralling Crow Vinyasa Yoga Teacher Training course with Alessandro and Caroline. He has gone on to complete further trainings in Hot Power and Hot HIIT Flow at YogaVenue. His goal is to share his love of the practice with all his students.
James teaches Hot Power Flow & Vinyasa Yoga.
James Ridgely is currently not instructing any classes.