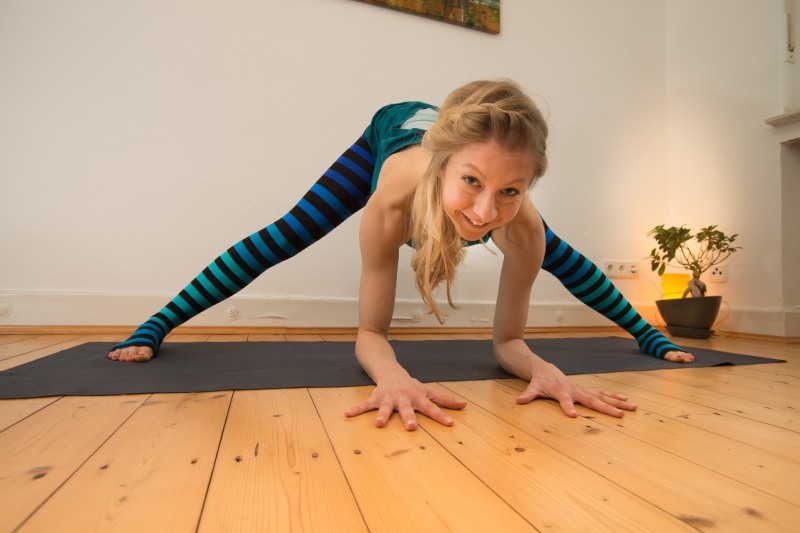 The Spiralling Crow Teacher Training was exclusively intended to further my own personal practice, as it turned out terribly difficult to find another place abroad that would give me a comparable feeling of trust, comfort, joy and challenge. After I completed my training, I organized two classes in my departments in Oxford and two for family and friends and I thought that's it for now. When I was asked to teach at the big studio I practiced at regularly in Dusseldorf (YogaKitchen), Germany and later at another one in Dinslaken, Germany (Yogaloft Dinslaken), I discovered that I would never want to stop teaching.
There was a lot to learn and my first challenge was to teach in German, which I hadn't done before. Some of my teacher friends tell me now that I said some very odd things in the beginning and I still do sometimes. The next challenge was to talk for 90 minutes without anyone talking back – that's quite a lot of talking! I knew a chunk of the students from practicing with them but being their teacher now was an interesting experience and I sometimes wondered whether they would compare me to more experienced teachers. Luckily, the studio has exceptionally friendly and warm students, and this idea quickly became history.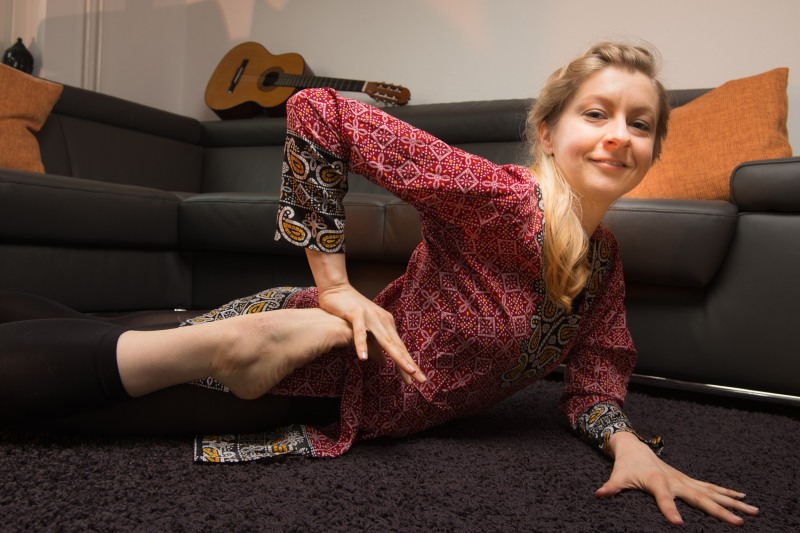 I have complete freedom in what and how I teach, as long as it is Vinyasa. I teach all levels (beginners, 2 intermediate and one advanced level), play around with the harmonium, I approach hand balances with beginners, and whenever I get the chance I teach party-mood classes. Alessandro's advice has always been to keep it simple, so I started from that and slowly worked my way through more complex and creative ideas. Mostly, careful preparation makes it successful and students enjoy playing around with fun Yoga elements, but occasionally, even the - what I had thought were the simpler things - will not work out as expected. Every body is different and I learned quickly that I need to carefully research options for different body types.
For me, teaching feels like having a great party with friends that I care about; you listen to your favorite music, you dance your asana, you smile and sometimes have a good laugh, you share this positive energy, and you connect with everyone in the room, be it assisting them in their practice, sharing smiles when they lose balance or being happy for them when they achieve new levels of poses. If my day is ever gray, teaching my lovely yogis turns my mood around every single time. I always try to find new and creative things I think they would enjoy, try to find ways to help them ease postures when they tell me about injuries or anatomical difficulties, and it makes me happy to see them leave with a smile on their face.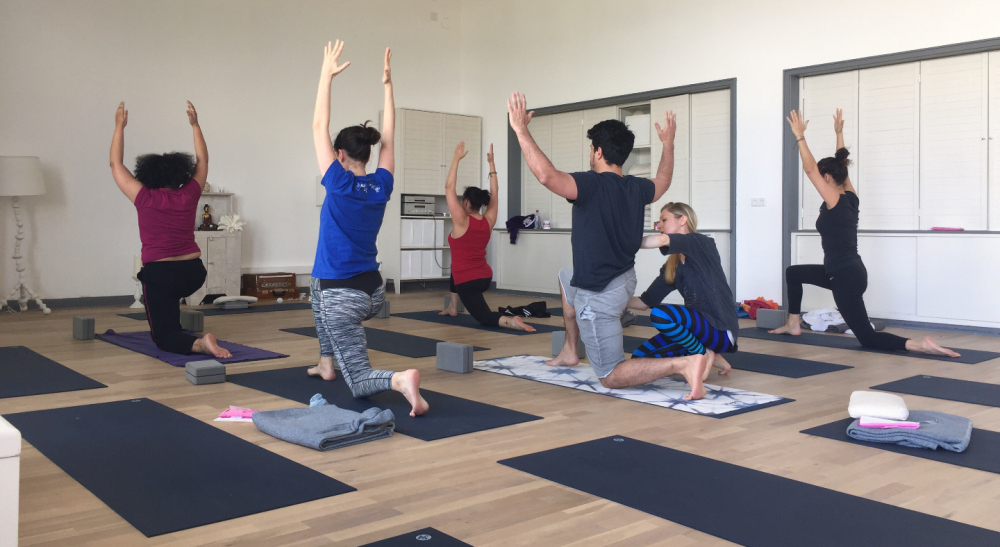 In the short time I've been teaching, I've seen some students and groups that don't connect with me or one another right away. It felt odd at first because I couldn't tell whether they were ok, happy, exhausted or disinterested but I think now that many people who begin with Yoga are very, very focused on what they do in their asana practice. With practice, they can free up capacity to be more flexible with their senses and engage more with the energy surrounding them. Once, a new student came to me and said she had an emotionally difficult day and now after class she felt much better. This is a wonderful thing to hear but also demonstrates that you should not worry about making people happy and especially, you should not interpret their face or body expressions and take it personally.
Over the past months of teaching, I have become more flexible and spontaneous in my approaches and in dealing with different unexpected issues. You can be perfectly prepared for a class but you never know who is showing up for your class. I always prepare a relatively advanced class for who I expect to show up and then downscale when less advanced people come to my class. This way I can slow down the class and still provide a good range of poses. Keeping it simpler but offering more advanced options has not worked as well. The students coming to my studios are used to trying everything the teacher provides and they often don't know their boundaries before they go too far and struggle. For me, it is important not to cause frustration, so instead of overwhelming students, I now advice them to visit more advanced levels if they would like to further their practice.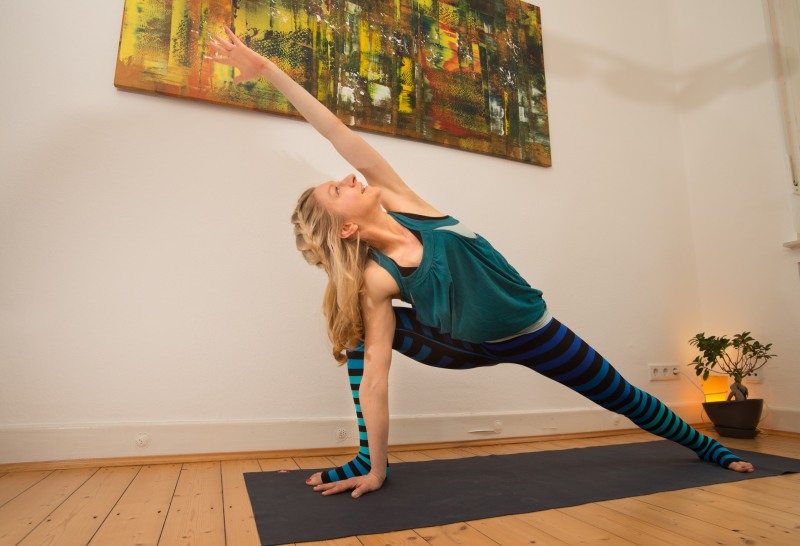 My past and current Yoga community has become a dear and crucial part of my life that continues to inspire me. There is a whole new group of friends and it connects people from the most distinct fields of work and backgrounds, which is unique in my own experience. The interactions amongst people here are marked by friendliness, openness and support. Suddenly lots of my friends are Yoga teachers and we try to help each other out in covering classes, go to workshops together, take each others' classes, and go out for dinner. The Yoga creates a loving, happy bubble, almost vacation-like within my otherwise busy and sometimes chaotic life. I can take this bubble wherever I want because it is not bound to a place or time and I am inspired to bring it to anyone who wants to explore it too.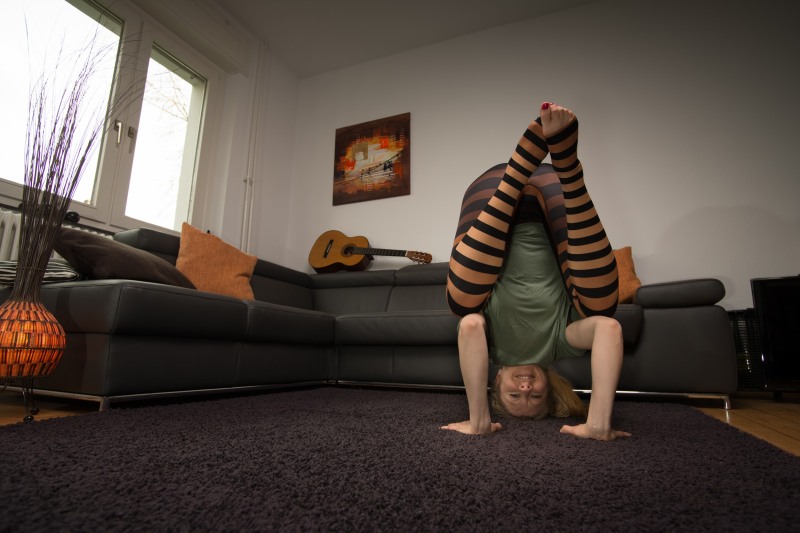 by Bea

Bea is a graduate from the Spiralling Crow Vinyasa Teacher Training at YogaVenue. If reading Bea's post and learning a little more about life after training to be a Yoga teacher has inspired you, have a look at the training programme for this year here.

The photos of Bea in this blog post are by the photographer Karina Guenther. The photos of Bea teaching classes are from her studio in Germany.