One of my favorite things about weekends is the time for a long breakfast with plenty of coffee and great conversations. I believe some of my best ideas have emerged on Saturday mornings over a long and leisurely breakfast. With the whole weekend to look forward to, I usually feel energized to create a more interesting breakfast.
A stack of golden brown and fluffy pancakes makes for an exciting start to the day. They are easy to make and only require one mixing bowl, which means less washing up afterwards.
Chocolate and ginger is an unexpected combination in pancakes but works surprisingly well. As you may know, I like to throw in chocolate whenever possible but you could easily replace it with something more grown up and healthy like a mashed banana or nuts.
Chocolate & Ginger Pancakes (V)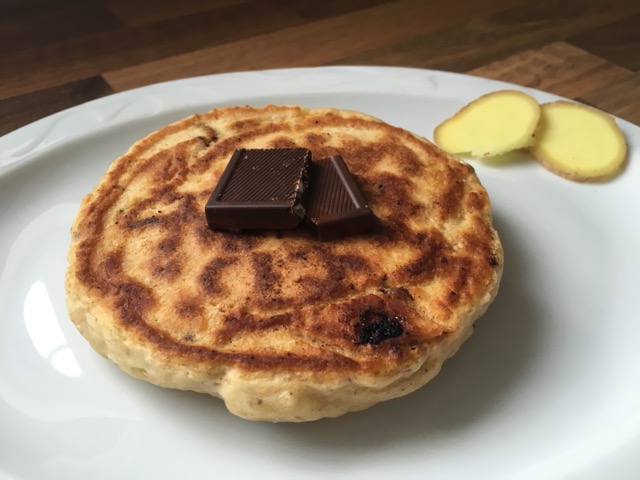 Serves 2 people
Ingredients:
- 1.5 cups of self-raising flour (substitute self-raising gluten-free flour blend, if desired)
- 2 tbs ground flax seeds
- 1 tbs sugar
- 1/8 tsp ground vanilla bean
- 1/2 tsp grated fresh ginger
- dash of cinnamon
- 1 cup of soy milk
- 25g mini dark chocolate chips (or cut up some of your favorite vegan dark chocolate bar)
Instructions:
1. Pre-heat pan over medium heat.
2. In a mixing bowl, combine the dry ingredients (flour, flax, sugar and spices).
3. Add the soy milk and stir with a spoon until batter is smooth and no lumps remain.
4. Fold in the chocolate chips.
Lesson learnt while working in a fancy restaurant: Cook your pancakes in coconut oil for a more cake-like taste.
Enjoy your breakfast and don't forget to brainstorm new ideas and make plans for world domination.
By Susanne