Distractions and Why I do Yoga?
Recently, we've been approached by some of you asking; "Why am i so distracted in class?" There are so many reasons: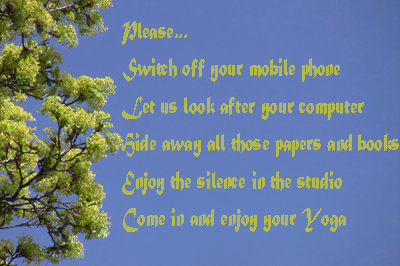 Some distractions are external to us – the news, social media, issues at work and home, and a big one – mobile phones. We experience other distractions as internal – my body aches, the heat is uncomfortable, this sweat is making my eyes itch, I can't breathe…why am I here again??

And perhaps the last is where we end up in our discussion: Why are you here? Why do you do Yoga?

Here are some thoughts:

We come to the studio because we are missing something, or unhappy with something or want to add something, in our life. We come because somewhere inside us our intuition is saying there is more to living and I need to explore this. It may be that I need to look after my body, regain my posture, stretch my tight muscles, release my stressed shoulders, breathe better and deeper, loose weight, rehabilitate my broken leg or knee.

Or it may be that I need to get out of my life for an hour and half, spoil myself by giving myself an hour and a half in the day to look after me, to find silence in the room, to allow me to sit and let my emotions wash over me as scary as this may feel and let them go, to focus on my breath and increase my lung capacity, to heal my mind from terrifying dis-ease, to observe the crazy things I am doing every day which are not really that important, to stop rushing, to have an excuse to turn off my mobile phone so I am not distracted every minute of the day/week/month/year.

Often it is the physical issues that bring people to Yoga, but slowly a feeling of having/wanting to go to the studio may creep up. Your Yoga develops as the physical issues are resolved or satiated and it then incorporates other needs like finding silence, taking time to practice concentration and focus, insisting on this time being solely for me, acknowledging emotions, becoming comfortable with alone time and not looking for 'stuff' to fill my head with, cutting off from the bombardment of trivia, media and distraction that make up all our days.

And hopefully over time Yoga becomes a daily tool that helps you live a deeper, connected and more aware life.

Coming to the studio requires an effort. When you are here we, at YogaVenue, try our upmost to give you the experience you are looking for. We are not a gym or social club but a Yoga studio firmly rooted in the present day world and looking to integrate this with Yoga values and teachings. When you come to the studio please respect the studio, and most importantly the needs of your fellow Yogi's. We never know what the person next to us needs each time they come to class. We all – other students and teachers – offer them our very best intentions so we respect the communal rules of the studio. We are all looking for a way to find more quiet time, focus on our needs and take time off from all the distractions we think are so important. For an hour and half let them go.