Yogalates at YogaVenue
It has been interesting to hear how positively the Yogi's doing our Yogalates classes have found it, and how it effects their regular Yoga classes.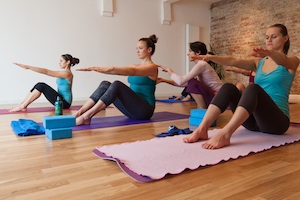 Yogalates works on the basis of enabling you to find your core muscles and to strengthen them but not to exhaustion. It allows you to feel how your shoulders and your hips are an integral part of your body when moving and are brought together through the core. In this way you can use the whole body to undertake work rather than over working and straining one part. It is great for both guys and ladies! In the words of one Yogi:

"I've found that the Yogalates class provides a welcome opportunity to slow down and bring attention to parts of your practice that may be neglected. Because the pace of the class is slower, it allows time to feel out subtle adjustments in your posture and to focus on correct alignment and core engagement; thus strengthening the shoulder, core, hip relationship.

I think the class serves as a great supplement to the other Vinyasa and Hot Yoga classes at YogaVenue".NL

If you'd like to know more about our Yogalates or other classes held at YogaVenue, please click here or email us at info@yogavenue.co.uk.