Two of our Yogis, Kristian and Amy have been attending Hot Yoga together at the YogaVenue for the last six months. Kristian recently penned this poem for Amy about his experiences of class and has kindly given permission for us to share it below.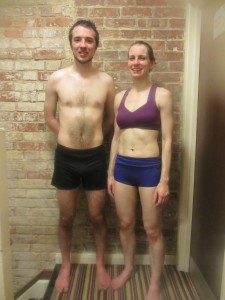 "Sonnet for Hot Yoga"
We come to standing as the class begins
Our bodies fully fuelled to hold the heat
We'll sweat until our fingers could grow fins
Then swim away with blissful hearts abeat.

Inhale, exhale; we are first taught to breathe
Lift up, bend back, and last chance: lock the legs
Step right, sit down, by now the skin doth seethe
Kick back, kick up, until the body begs.

A web to web tight grip, no shaky hands
One single locust still defines a swarm
Our trees grow toes before the cobra stands
The spine begins to mime the camel's form.

With freedom granted from this curs'd sauna
It's time to join the dead: Savasana.