Always the student
This Summer I was fortunate enough to take time out from teaching at YogaVenue to immerse myself in study with some amazing teachers at the Laughing Lotus Yoga School in New York City. A chance to refresh, re-energise and reconnect right at the source of some amazing Yoga.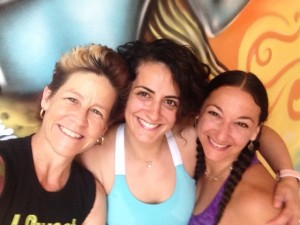 People have asked me why as a teacher I need to study more about Yoga. Is there really more to learn? The simple answer is yes! It doesn't matter if you've been teaching for 1 year or 10, or practicing for 1 week or 10 years, you never stop being the student.

Study is an important part of Yoga. As yogis, we learn about Svadhyaya which means self-study. This is one of the Niyamas (Yogic codes of conduct) and one of the eight limbs of Yoga. Pantanjali talks about the importance of Svadhyaya in the Yoga Sutras; how we study to learn about ourselves and, as we progress, we take a step closer to the Divine.

Going away on a course is a great way to learn, and for me it was a perfect opportunity to immerse myself in a different style of Yoga. However, it is not the only way. We have the chance to be a student every day, every time we step onto our Yoga mat and move, every time we chant, every time we meditate. All these opportunities can exist to help us understand more about ourselves and maybe provide more clarity on what our goal is in life. How fortunate are we to have this opportunity!

So next time after your Yoga practice, take a moment and observe what you have learnt from your practice that day. Every day will be different and some days things may make more sense than others. Be thankful for the experience and don't leave it too long until the next chance.

Join Caroline for Vinyasa Yoga every Thursday 5.45pm.