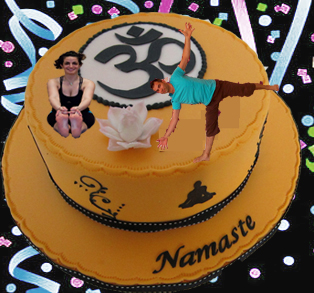 Someone in a shop today reminded me we have had pretty good sunshine days ever since April, and after a moments reflection I had to agree. When I thought about this I noted that because the sun is shining I start to rush around more than usual – to get everything done to be able to get out into the sun. That means I rush to fit Yoga in too! We know it can be so challenging to fit your Yoga class in to your day, but we feel the benefits if we do. "Fitting it into the day, without rushing so much" is my long term project. The last month or two we have had some fun here. We have nearly finished our run of workshops before the Summer's break (Braveheart Backbending is the last one this Saturday afternoon, only a few more places left). We had Sheri Celentano over from across the ocean giving us an inspiring taste of creative Vinyasa New York style. The charity classes have been getting busier and at the end of August we will be 3 years old. It has been an amazing 3 years. And don't forget to scroll all the way down for our Posture of the Month, Pigeon pose.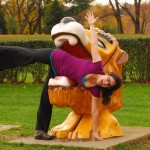 Summer Competition with Prizes to be Won
We have a Summer Competition running. Share your finest Summer Yoga pose photo on Facebook and get as many likes as you can. The most likes for the top 3 photo's will win a prize. It does not have to be the best Yoga pose, but capture your Summer and Yoga experience. Enjoy snapping away.
Find out more here..
Glare and UV in the Hot Studio
We are really lucky to have so many windows in our Hot Yoga studio. It's wonderful being able to look up at the sky at the end of class, and lots of people comment on how great it is to practice somewhere with a lot of natural light. To reduce the glare from the sun on sunnier days we have covered half the upper windows with a special film that reduces glare and UV rays by 99%. The windows look exactly the same so you can't see the film but you can feel the difference. The half that is covered is to the left of the Emergency Exit door.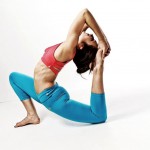 Saturday: Backbending workshop with Emma
Our last workshop before the Summer break will be this Saturday, Brave Heart Backbends with Emma. Always joyful and inspiring, Emma will work on understanding what we need to understand to go deeper into our backbends safely and confidently. (NB: this is not a workshop for beginners).
Book your place here..
Summer schedule
We are now into our Summer schedule where we have reduced a few of our classes. Please check the schedule online (it is all up to date) if you have any worries about when your class is. The main changes are:
Monday evening – Barre Strength cancelled
Sunday morning – There is no 90 minute Hot class at 9am but we have added a 90 minute Hot Power at 10am.
Sunday afternoon – There is no Hot Barre, so we have just Barre Cardio at 4pm.
Please keep an eye on the schedule as we will be making a few more changes in August.
View our class schedule here..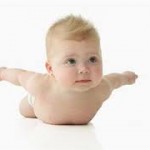 Pregnancy courses
Our pregnancy courses are finished for the Summer but they are scheduled to restart on Monday 8th September. Post Natal runs 2-3pm and Pregnancy runs 4-5.30pm.
Book your place here..

Hydration
As we mentioned it has been generally warm weather over the last few months as well as humid too – this is perfect sweating weather. Hydrating before coming to classes as well as re-hydrating after is super important at this time. As well as replacing water into the system we need to replace salts and minerals that have sweated out. So try to work out the best way of rehydrating for you.
Our teachers here have developed different techniques to keep hydrated; it is not the same for everyone. One likes water, one likes coconut water, one likes vegetable juice with water etc. If you have any good rehydrating techniques you would love to hear about them.
Esak can't Keep Away from YogaVenue!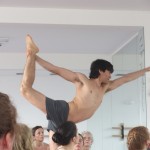 Like many of us, Esak cant keep away and is returning to YogaVenue for two days, Friday 12th and Saturday 13th September. We are very pleased to host him again and he was so inspiring on the last weekend he was here.
Over these two days, Esak will guide us through a regular Hot Yoga class of 26 postures as well as give a talk on tips for deepening our Yoga practice. On Saturday, he will lead an extended 4 hr advanced Hot Yoga class. Places are limited.
Book your place here..

Bikes and the Emergency Exit
It is great to see so many people cycling to Yoga – often a good way to warm up before class or cool down after class. There is some cycle parking between Tesco and the studio, but this can fill up fast. There is also cycle parking in front of Tesco and by Costa. When you get to the studio please avoid locking your bike in front of the Tesco Emergency Exit or against the studio windows. That means the Emergency Exit will always remain clear which is important. Thanks.