Kirtan has to be experienced to be understood — a bit like yoga! YogaVenue offered us the opportunity for this experience last weekend when Nikki Slade visited for the second year running.
This wasn't my first kirtan so I had some idea what to expect but — again like yoga practice — each time is different and you can never know what it'll be like until you are there, right in it, doing it and feeling it.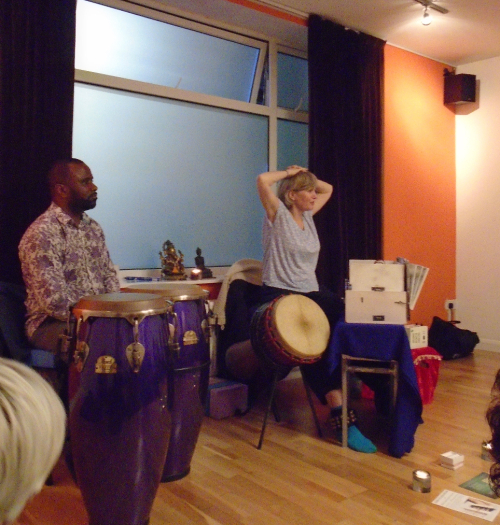 So what was it like? Really relaxed and joyful, in a nutshell. Nikki was so warm and gentle that she put us all at ease immediately. There were some first timers who might have been nervous at the idea of 'singing' in a group, but Nikki quickly explained that we didn't need to be Sanskrit experts or choristers to participate fully in kirtan. Kirtan works as a call-and-response of short phrases that are repeated over and over so you don't need to remember the words or the tune. Phew! My confidence in singing ended when I was thrown out of the school choir (I don't do high notes!) but I loved every minute of this. In the true spirit of yoga there was no judgement and no comparison. Nikki led the singing and played the harmonium with her drummer, Mike, keeping the beat and all our voices joined in response. I just eased into the music and the repetitions and let the sounds wash through me.
You can take kirtan at whatever level you want to — whether it's a devotional practice offering up your voice and your love, or as a way of connecting with your inner peaceful self, or just as a bit of relaxing fun. Once you put any self-consciousness aside, the musical repetition is really very absorbing and leads naturally into feelings of relaxation or even into a meditative state.
At the end Nikki complimented our voice — perhaps other studios she visits are more shy than we were! But truly we all came together in a really harmonious and natural way. And being in such a warm group of people really added to the experience for me.
…But I really needed that cup of tea at the end of the session!
Thank you to Alessandro and Caroline for inviting Nikki. I can't wait until the next kirtan!
By Victoria