Blankets, bolsters, bricks — and a skeleton! These were the props Katie brought out for us in her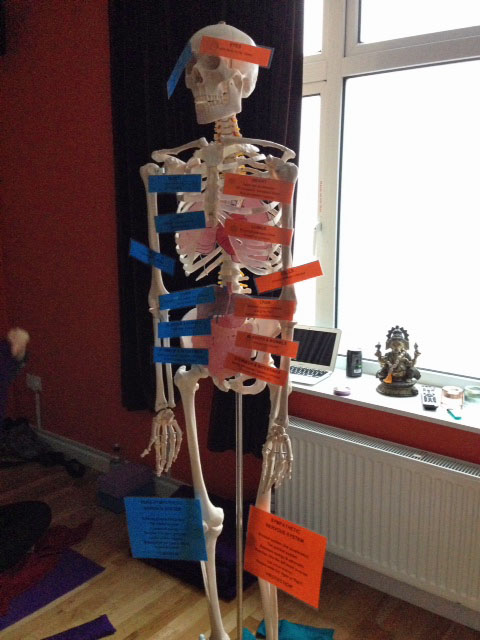 Restorative Yoga workshop. We had a great two hours together exploring the whys and wherefores of restorative yoga.
Katie talked us through the science behind the practice, with the help of her bony assistant. She explained something of the workings of the nervous system and how important it is to allow the parasympathetic nervous system to fire up, since this governs the rest and digest responses in the body. It gives some balance in our systems to the stress mode that many of us live in habitually. Blame too much screen time (Katie revealed a personal weakness for box sets!), social media making us feel always 'on', not to mention the caffeine and sugar that keeps us going. She made a compelling case for making time for some restorative yoga. Not that I really needed much convincing!
If you've been to a restorative yoga class with either Derek or Katie you'll know that there can be quite a lot of set-up involved — piles of blocks and elaborately folded blankets. The use of props supports the body, encouraging it to soften more deeply into postures that tend to be held for longer periods of time (five to twenty minutes). But the props can be intimidating if you want to incorporate some restorative poses into your home practice. Katie showed us some really simple set-ups that would be easy to recreate at home and showed how we could use regular pillows instead of a yoga bolster to equally good effect.
Finally she guided us through a restorative practice, encouraging us to let go of effort and to receive the poses passively, softening more deeply with each exhale. Practice ended with her signature blanket-tucking to support the neck (so simple but so amazing!) and a mini massage of the forehead with some lovely scented oils. The opinion afterwards was that we simply didn't want the final śavāsana to end. Even the skeleton seemed a bit rejuvenated!
By Victoria


Restorative classes are held on
Mondays at 19.45
with Derek and
Fridays at 17.45
with Katie.