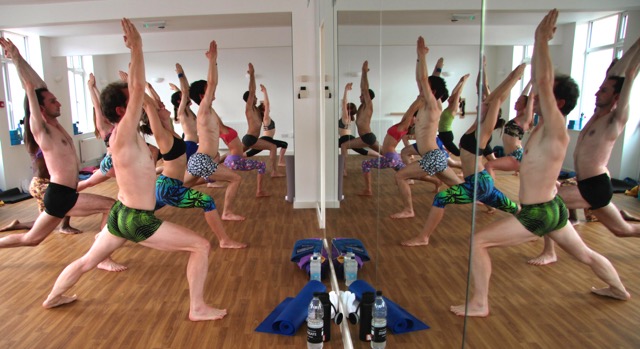 My first experiences of Yoga: late eighties Scotland, and mid nineties central England. They took place weekly (during term time) in dusty rather cold church halls with metal and plastic chairs stacked up in the corner. Grave attempts were made, using straps and belts, to mold my body into patterns it did its best to refuse. I was usually, awkwardly, the only man: A fish out of water. My flexibility barely increased, and whatever enthusiasm I had soon petered out.
Fast forward twenty sedentary years. Middle age is taking root in my hips and making it painful to stand around for too long.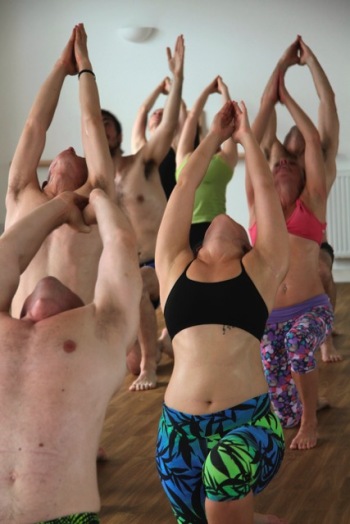 Keen to impress my soon to be (second) wife, I accompany her to a Bikram Yoga session in a 40 degree room in central London. We step off a gray London street into a tropically heated mirror-fronted room and join 60 people twisting and turning their bodies on orders from a skinny man in swimming trunks. To add to the strangeness - the room is delicately lit by an impressive collection of mismatched chandeliers. About ten minutes in I abandon my modest decision to keep my shirt on - I have already become more like a fish in water. At the end of the class, I am both wrung out and wet as sponge. The whole thing is strangely exciting, inspiring even. It's hard to say if I feel double or half my age. I opt for the latter view, and shortly after discover YogaVenue. It's down the road from where I live.
That was about three years ago. The friendly people at the front desk have become friends and I am no longer the stiffest guy on the block(s). I'll mention a few of the things that have made it work for me. Firstly, I felt really welcome, encouraged, and certainly never stigmatized for my lack of flexibility. I've come to realise that the more rigid your body the more Yoga is actually doing for it*. Move over Bendy Wendys – its only doing half as much for you! Secondly, a dedicated studio like YogaVenue makes it practical and possible to practice classes regularly. You wouldn't get far beyond chopsticks on the piano if you only practiced for an hour and a half on Wednesday evenings (during term time). Why would Yoga be any different? Finally, the heat. I'm not always found defending it straight after a class, but it has enabled me to get right into Yoga without injuring myself. That's a serious consideration if you don't start off with a natural ability to scratch your ear with your toes.
Most of all, I think those ancient Indians and their followers discovered that life tastes better when you regularly flex, stretch and breathe into every part of your body. Given our more temperate climate it has taken a while to find a format for this practice that truly works over here. It's taken me a while to find one too. Over the last few years, YogaVenue has enabled me to make Yoga a regular, even daily, part of my life. It seems now as necessary as eating good food and getting a good night's sleep.
* And your mind, but let's not get into that now
By James