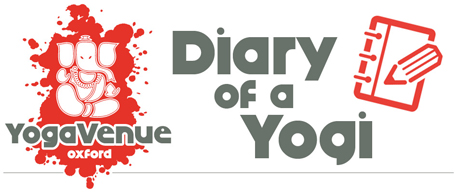 In my last post, I said that next time I'd be looking at wide-legged forward bend. I'm still trying - mentally, not physically - to disentangle my hip joints from my sacro-iliac, so this topic's going to take a little longer than I thought. Watch this space for updates.
Overall, it's been a challenging couple of weeks. From comments I've heard around the studio, a lot of us are feeling the same way. And a lot of the comments have revolved around the same idea: "I needed to come to class"; "Best thing to do today was to come to class"; "I didn't want to be sitting at home, so I came to class".
These comments have really reinforced the benefits of regular practice, and how class can provide a space to calm the body and mind. Right now, I'd love to be taking more classes, but I also know that making it to the studio more than three times a week just isn't realistic right now.
So I'm going to have my own mini version of the 30 day challenge. No big investment of time, no physically challenging poses: all I have to do is get out my mat, sit, and focus on my breath for 10 minutes a day, every single day. If I feel like doing more, I'll do more, but the only commitment is to finding, and using, that 10 minutes in the best possible way.
It'll be interesting to see what happens. Anyone up for joining?
by Anna