Someone told me you never forget your first time — teaching your first yoga class that is! But actually I'm not sure this is true. We did so much practice teaching during the Spiralling Crow Vinyasa teacher training this summer that by the end of the course it seemed a natural progression to start teaching a full class.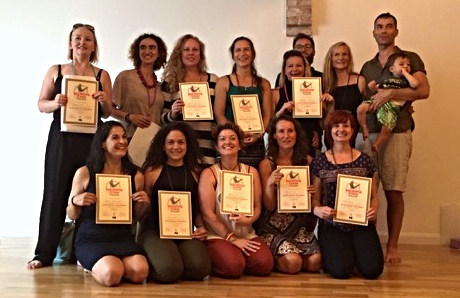 Because of this it felt quite a treat to be invited to teach one of the community classes at YogaVenue this autumn. Sure, it was little daunting teaching in the studio where I trained and where I feel very much the student — plus I felt I was stepping into some big teacherly shoes! But as soon as there are people in front of you, waiting for you to teach — well, you just have to teach! There's no time for any worries about whether you know enough, whether your playlist flows, if you'll remember the sequence, how to accommodate all levels of experience… So many possible worries!

For me all these concerns fell away in the moment. Teaching feels very much like the practice of yoga itself — being wholly present and focussed, following the breath, standing steady and moving consciously, offering up what you can in that moment. It feels a real privilege to spend an hour supporting others on their own yoga journeys. In the words of one of the other Spiralling Crow graduates "just open your heart". Beautiful teaching advice!

Teaching yoga is often considered an act of service and community classes even more so — there are so many good aspects to this! These classes are something the studio offers to the wider community, not just regular members; newly qualified teachers appreciate the chance to practise their teaching in a well set up space; and all the proceeds are offered to charity. Alessandro and Caroline this year have chosen to support the Felix Project, a charity close to their hearts since it was established by a student of theirs. The charity does a fantastic job of taking surplus fresh food from supermarkets that would have just been thrown away and getting it out to various organisations that make meals for those in real need. It's win-win, and I feel proud that my small efforts have gone to help this worthwhile cause.

By Victoria Jackson

You can read more about the Felix Project here.
The community class runs weekly on Fridays at 16.15, and all of the £8 class fee goes directly to the Felix Project.