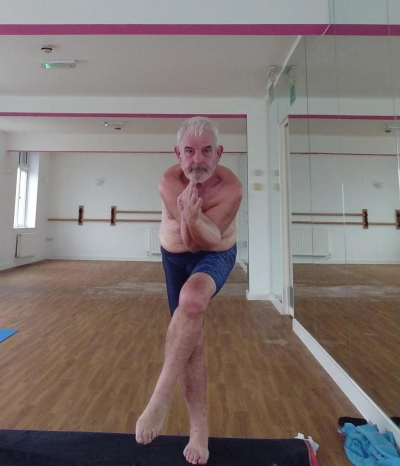 I have had arthritis for over 40 years, mostly psoriasis, but in May 2015 it blew up into Rheumatoid Arthritis. By that November I could hardly walk and had to give up employment. In January 2016 I was retired on grounds of ill health. I faced a future bound to my home except going out in a wheelchair and having my home modified - this was truly my life coming to an end.
In February I found what is known as the Paddison Program which is largely a whole-food plant based diet with minimal oils. Based on my experience and research this is something I have now decided is arguably one of the healthiest lifestyles on the planet. There is more to the Paddison Program than that, but one thing is a hallmark of that program - the 60-40 rule. That is that 60% of recovery from RA is diet, and the other 40% is exercise.
As for exercise Paddison strongly recommends Bikram Yoga (Hot 26). Having never done Yoga, after six months of diet I was walking again and in October 2016 started at Yoga Venue in Cowley. I have been here, excepting holidays etc, at least four days a week ever since. When I started Caroline kindly provided me with a stool to sit on because I could not get to the floor. At my second session two people lifted me physically and very carefully to the floor, and at the end back to vertical again. This assistance continued for two months, and then down to one person and then... After four months I was able to use the ballet bars and get up and down from the floor by myself.
After about thirteen months of Hot 26 I completed over 500 hours both in class and my own private exercise regime. Hot 26 has been nothing short of transformative for me. From being wheelchair bound I have walked distance walks up and down very steep hills and kept up with seasoned walkers. RA still presents very serious challenges for me. But now I find Hot 26, supported by my dietary regime, means I feel a bit healthier each and every day.
For forty years I have not knelt properly. It was over six months before I was able to kneel in my Hot 26 sessions. In today's session I knelt and was able to kneel back on my haunches - and almost relaxed in that position. For me, that is a huge moment.
Whatever (small or large) health challenges you have, I am totally confident that if you can do Hot 26 Yoga regularly, you too will find your body recovering and then improving steadily. I am so very confident that Hot 26 Yoga is absolutely the best thing to do - even if all you can do (as I did) is "stay in the room" during your early sessions.
Who knows whether I can ever restore myself sufficiently to be proud of my poses. All I know is if I do nothing my health will degrade, if I do something else I will progress less well generally, and if I postponed my Hot 26 Yoga experience (say for 5 years) any recovery would be that much more of a challenge.
So I am who I am and I am thankful to be allowed into the studio with all the other yogis. I know that I am not the only person with serious challenges. I honour each one of them and am proud to share my time with them.
By Andy Swarbrick
If you want to know more about Andy's journey, click here or here to view some videos he has been involved with.