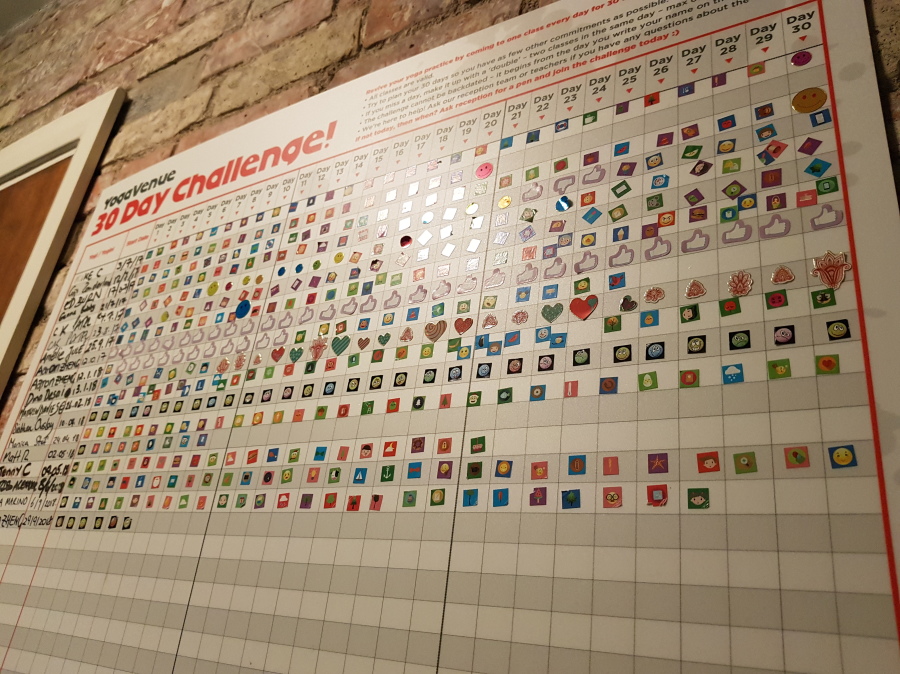 I completed my 30 day Yoga challenge in October 2017 – about a year and half after I first started Yoga. I had been looking for an appropriate time to undertake YogaVenue's 30 day challenge for a while, so I was really excited when the occasion finally arose. For various reasons ranging from personal relationships to the requirements of my PhD work, my life as an Oxford student has been quite nomadic. I feel lucky for the many travelling opportunities that I have, but this lifestyle can also be tiring and stressful. The stability of spending a whole month in the same place and the prospect of a steady, daily Yoga practice were therefore very appealing to me. In addition, I had just moved out of a house five-minutes away from YogaVenue, and I wanted to make sure that my new 'remote' accommodation further away from Cowley Road did not drag me away from the Yoga mat – under the pretext of feeling too lazy to get to the studio!
In truth, I did not expect to experience much change by engaging in this month-long challenge of daily Yoga. I already had a fairly regular practice, as I was coming to the studio about five times a week (whenever in Oxford!), and I thought two more classes would not make much of a difference. This expectation (or lack thereof…) proved quite wrong. Around the third week of my challenge, I started to feel much more comfortable doing Yoga – I think that's when I started to connect with my breath, thus making it easier to flow throughout classes without taking the child's pose breaks I used to need. The most tangible difference I remember of was to complete a Hot 26 sequence for the first time without skipping any of the poses for a rest.
Another major difference I noticed was that I developed a sense of becoming part of a community. Instead of flexibly picking one class or another from one week to the next, I adopted a regular schedule of my favourite classes. This meant I started to meet the same fellow yogis and yoginis week after week, and often even daily. Owing to my social life spread across at least three different countries, I can sometimes feel quite disconnected from the Oxford life, so I really enjoyed getting to know people at YogaVenue.
While I am still travelling a lot and cannot always practise Yoga as much as I wished, I have tried to stick to my daily practice since I finished my challenge. I have also established a home-practice for the times I cannot visit YogaVenue, and I rarely let two days pass without hopping back on my mat. I look forward to the next challenges and discoveries on my Yoga journey!
By Amélie