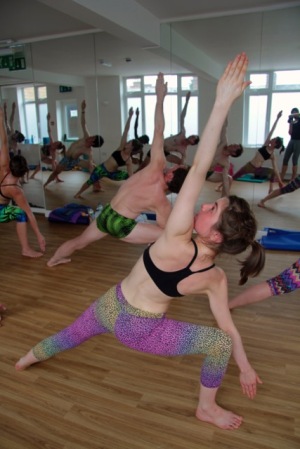 Esak Garcia is renowned in the Hot Yoga community as a teacher who has dedicated his life to yoga. Jedi Fight Club (JFC) is the name given to intensive training camps held by Esak during which students immerse themselves in their yoga practice through additional classes, discussion and workshops. In 2014 I attended the first JFC weekend at Yogavenue, which was also the first JFC held in the UK! Over the weekend we were given a taster of one of Esak's JFC's – we practised the series of 26 postures plus 2 breathing exercises developed by Bikram Choudhury (the Hot 26), the advanced series of 84 postures that builds on the 26 in the beginners series, were led through posture workshops and were introduced to Esak's homework exercises.

Esak's homework involves exercises that you can do in your own time alongside your usual yoga practice. The aim of these exercises is to help deepen and strengthen the postures you practice in class. One of the main focuses of the homework is back-bending using the wall as a prop – or 'walking down the wall'. Over the weekend Esak taught us how to walk down the wall and provided lots of information on back-bending technique. It was inspiring to watch Esak demonstrate an impressively deep and even back-bend, something that he has achieved through repetitive wall-walking and learning how to isolate and work on specific areas of the spine. When we were challenged to complete 40 consecutive wall-walks I expected to hit a wall of nausea, dizziness and exhaustion after 10. However, following Esak's instructions on how to approach the wall-walks slowly and mindfully - and importantly remembering to breath – made this challenge fun and there were plenty of smiles in the room! Since learning this technique, wall-walks have become a remedy for a headache or to stretch out a crick neck in the morning – and this is definitely thanks to Esak!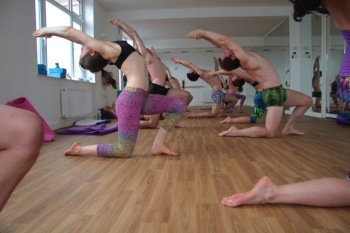 The mini posture workshops involved looking at certain postures from the Hot 26 series in more depth. They involved discussions, trying different exercises to look at technique and often working with a partner to assist and support each other. Esak put a focus on learning to feel which specific muscles are working in certain postures, rather than relying wholly on the mirror to check your alignment. One that stuck from that weekend is the use of the quadratus lumborum – the QL muscle - in Standing Bow Pulling Pose. It has become a good reminder in class now that if I cannot feel the QL working in that posture the alignment is probably wrong.
The JFC weekend was informative and inspiring. It was a privilege to be taught by someone with so much knowledge. Esak was open to answering any questions and encouraged us to do so which created a real sense of community over the weekend. I can't wait for the next one!

By Hannah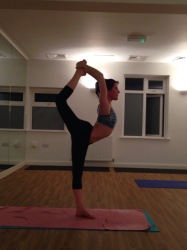 If this sounds like something you'd be interested in to further your Hot 26 practice, there are still a few places left on the next Jedi Fight Club weekend: 3-5 June 2016. Click here for more information and to sign up now.