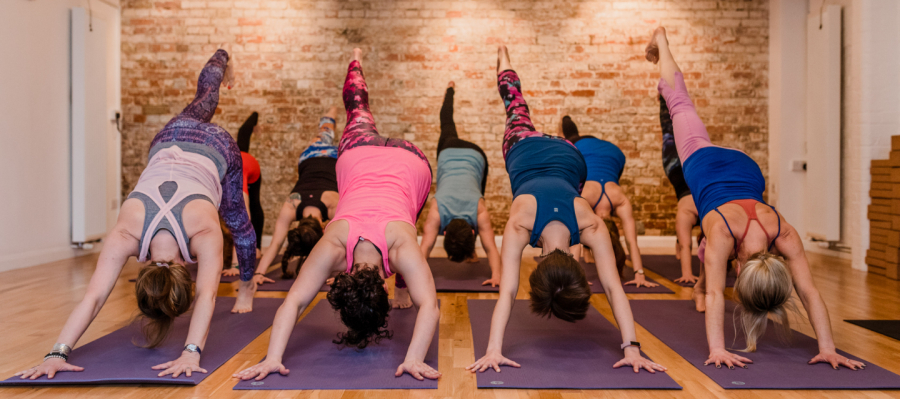 A regular student rushed in to the studio, obviously feeling very disturbed and upset.
"I haven't booked, but please can I do class if there is room?"
The class was full and I said so.
"Please, I'm begging you, I've had the day from hell and I just want to do Yoga. Can I do it in the hall way?"
Unbeknown to them, in the past I have practised in a hall way when there was no room left in a studio I was visiting (some others spilled over into the garden too). What was I to say to that?
It seems that there can be a slight disbelief that so many other people like the same class and they also want to come and experience it. And of course, this can challenge our ideas (or perhaps I should say expectations) of personal space. I welcome the experience of practising in a dynamic class with focused like-minded people. In the Yoga world it is called Sangha.
Why do people struggle with busy classes? And what does busy mean?
How much space you need and how much you want can be quite different. Yoga used to be taught one on one - the student and the teacher, and this still happens today, but in the last 40 years the movement towards group classes has grown. This is partly to do with helping more people benefit from this practice, which can only be a good thing. We want to help people experience Yoga and gain the amazing benefits from this practice safely (this is why we have maximum capacity limits on classes). It's as simple as that. In the end, each yogi will to come to their own conclusions about which classes or studio works for them and their Yoga.
We feel Yoga is for everyone and we try as hard as we can to make it accessible; Sangha creates itself, a shared sense of learning and practising. To practise, all you need is your Yoga mat and your breath. It is the same in a class with other people, a one on one session, or self practice.
So, what to do about our desperate student hoping for a space in class? They really needed Yoga that day – who knows, it might even have saved their life. If everyone in the class just moved up a few centimetres… And when I asked the class if there was space for someone who really needed their Yoga that day, there was no hesitation as everyone shifted around. This is our Sangha.