About the Course
YogaVenue's Spiralling Crow Teacher Training course offers you the skills, techniques and knowledge to become a Vinyasa Yoga teacher. This 250 hour course presents a practical foundation in Yoga from which students develop an understanding of the frameworks and building blocks of sequencing classes. While the course covers the essential Yoga knowledge of Asana, Pranayama, transitions, sequencing, philosophy, anatomy and energetics, equal importance is placed on developing your teaching style, and voice.
YogaVenue's Spiralling Crow Teacher Training is certified by Yoga Alliance Professionals UK at the 250-hour level.

Course Objectives:
We aim to facilitate your transition into an inspiring Yoga teacher. The course places great importance on the practical aspects of teaching Yoga, as well as understanding the management of the class itself. Our goal is for you be able to stand up and teach a Yoga class at the completion of this course with confidence and compassion. We strive to keep the content of the course contained, enabling you to use as much of the learning as possible in your teaching practice.
The Spiralling Crow Teacher Training Course includes the following areas of study:
• Safety in the Yoga room
• Student/people skills
• Asana and transitions
• Pranayama
• Anatomy of poses and movement
• Framework for class sequencing
• Teaching technique
• Teaching practice
• Vocal work
• Meditation
• Philosophy, tradition and chanting
• The subtle energy systems
Students will be fully guided by the course leaders, and supported by a course mentor throughout the training. The course is purposefully kept small with a maximum of 16 students.
What to Expect:
• An intensive, rewarding 2 months of applied, relevant learning
• Individualised attention from highly experienced instructors with a passion for teaching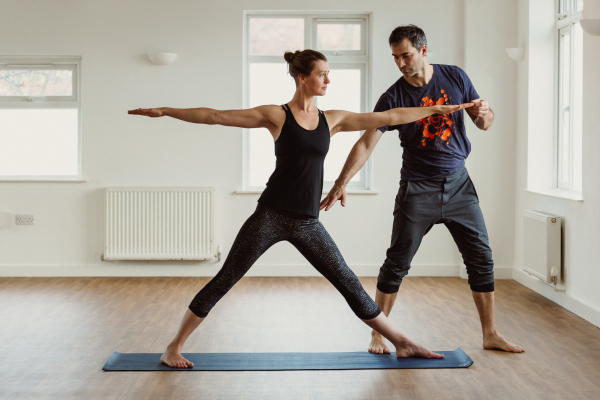 • A safe, supportive environment in which to fully explore your creativity, unique teaching voice and teaching style
• A comprehensive understanding of the practical application of your Yoga knowledge
• An understanding of how to develop your own Yoga class and sequences within a framework
• The knowledge and skills necessary to confidently teach a 1.5 hour Vinyasa Yoga class
Prerequisites:
This is an exciting and intense course, and it is expected that students will commit fully for the duration of the course. Students must be able to participate in each day of the course; missing a day, days or part of days is not an option. Students must have an established Yoga practice of preferably at least three times a week as well as a solid understanding of common Yoga Asanas.
Is this the Right Course for You?
This course is right for students with a desire to learn to teach Yoga with compassion. It is suitable for students who want to understand the frameworks and building blocks of sequencing classes, and for those who want to explore a creative approach to teaching while developing a unique teaching voice of their own. This course may not be right for students looking to further their individual Yoga practice. It is also not the right course for students new to Yoga.
Application Process:
Applications for the 2019 Spiralling Crow Vinyasa Teacher Training are now open. If you are interested in our future trainings please get in touch using the details below, or come along to our next open day: there is a Q&A session with Alessandro Gozzi at 12.00 - 13.00 on Sunday 25th November.
Stage 1: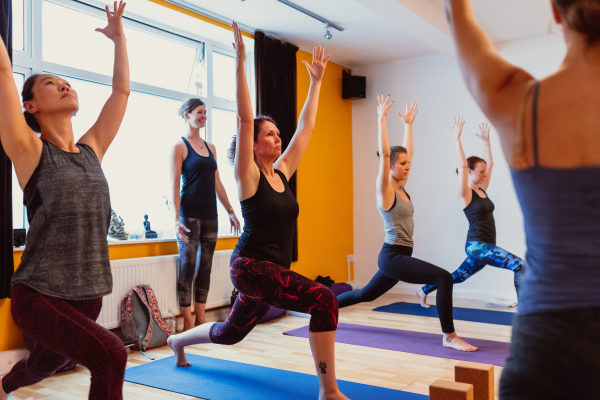 If you have any questions, please write or call us and we can chat to you further. Contact us on training@yogavenue.co.uk or 01865 245754.

Stage 2:
Complete an application form.

Stage 3:
Once we have received your application we will contact you to discuss your application and answer any questions you may have.
We look forward to your application!
Click here to download the Spiralling Crow Vinyasa Yoga Teacher Training Policy Pack.
Course Schedule
Our 2019 Teacher Training is held in 4 parts over the following dates:
Part one: Thursday 6th June - Sunday 9th June
Part two: Thursday 20th June - Sunday 23rd June
Part three: Thursday 4th July - Sunday 7th July
Part four: Monday 22nd July - Saturday 3rd August
Course Location
The Teacher Training takes place at YogaVenue, at 2 Avenue Lane, Oxford, OX4 1YF
Tuition Investment
Course Investment: £3250
Cost includes all tuition and course materials. Pre-reading materials are not included in the fee. Upon acceptance, a non-refundable deposit of £600 is required to secure your place. All details will follow your acceptance on the course.
Spiralling Crow Teaching Faculty
The Spiralling Crow trainings are led by the course directors Alessandro and Caroline Gozzi. Additional teaching is provided by leading senior international and national Yoga teachers.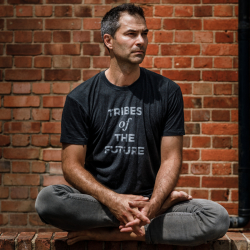 Alessandro has been practising Yoga for over 25 years. He completed his training at Jivamukti Yoga with founders David Life and Sharon Gannon, and with Laughing Lotus Yoga School in New York City. Alessandro is a senior teacher registered with Yoga Alliance Professionals UK. He is the co-founder of YogaVenue and the Spiralling Crow Vinyasa Yoga Teacher Training Course.
An Aikido teacher for many years. Alessandro's classes combine a disciplined, classical approach with the more flowing style of Vinyasa Yoga. A firm believer that Yoga helps us find joy and freedom in the everyday, Alessandro's classes are heartfelt and experiential, while staying rooted in the principles of alignment, kindness, compassion and grace.
Alessandro teaches Jivamukti Yoga, Vinyasa Yoga, Vinyasa Yoga (Advanced Level) and Hot Power Flow Yoga.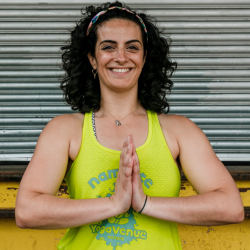 Caroline has been teaching Yoga since 2005 and has completed trainings in Vinyasa Yoga with the Laughing Lotus Yoga School in New York City and Bikram Yoga with Bikram Choudhury in Los Angeles. Caroline is a senior Yoga Teacher registered with Yoga Alliance Professionals UK and the Co-Founder of YogaVenue and the Spiralling Crow Teacher Yoga Training School. She developed the Hot Power Flow and Hot HIIT Flow Yoga classes as well as the teacher training courses.
Caroline believes that practising Yoga makes change possible, as it encourages us to explore our own path with confidence and joy. Caroline is inspired by each class she teaches, and welcomes the challenges Yoga brings. When Caroline is not at YogaVenue she can be found sprinting after a very fast toddler in the local park.
Caroline teaches Hot 26, Hot Power Flow Yoga and Hot HIIT Flow Yoga and Vinyasa Yoga.
Accreditation
Our training school has met the stringent requirements set by Yoga Alliance Professionals, demonstrating that our courses are of the highest standard and that our graduates may register with Yoga Alliance Professionals to use their relevant membership level designation as a sign of quality training.
View the Spiralling Crow Teacher Training page with Yoga Alliance here.